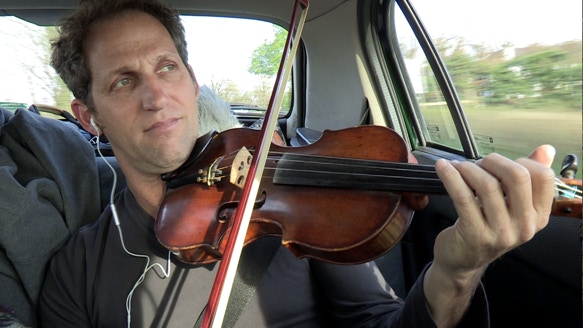 IT'S NOT JUST INTERESTING, IT'S IMPORTANT!
​
Since nearly everyone in the world has some kind of idea about how a violin is supposed to sound, it's a unique tool for celebrating the world's diversity, while also showing how we are all connected. From India to Morroco, from Scotland to Iran, everyone manages to put their own unique stamp on it- and this very familiar instrument can sound completely unfamiliar depending on by whom and where it is being played.
In a feat of musical extreme sports, violinist Daniel Hoffman travels to Co. Clare, Ireland, and has just one week to learn to play Irish fiddle with master fiddler James Kelly, and then somehow, perform with him in concert. Daniel's quest to achieve the impossible, uncovers unexpected secrets about Ireland and about himself. It's a film about a hidden and even mystical corner of Irish culture, as revealed through the ancient and beloved Irish fiddle tradition. It's also about deep travel, identity, and the inner journey.  
​
The Italianate violin is the world's most versatile and widely adopted musical instrument. Essentially unchanged since its was created by Andrea Amati in Cremona Italy in 1635, it's been integrated into the traditional and classical music of countless countries and regions worldwide. More than any other musical instrument, this curvy little box provides a unique and intimate window into the music and culture of much of the world. 
​
The program features Daniel Hoffman, James Kelly, Peadar Ó Riada, Dr. Niall Keegan, Dr. Catherine Foley, Nollaig Casey, Sean Talty, Paul Bradley, Nell Ni Chrōinín, The Rascals, and many more compelling personalities from the world of Irish music, dance, art, and philosophy.